Driver Training News
All about what's happening at Kim Driver Training
Driver Training in Berkshire and Oxfordshire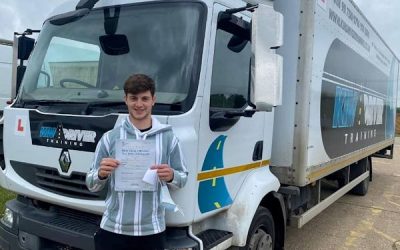 We're so glad to be back after the lockdown! We've been really busy in May, despite the rainy weather. Congratulations to everyone that passed their driving tests with us this month, especially those that passed first time.
Expand your Driving Skills with us
Kim Driver Training maintain our high standards with consistent commitment and offer information and guidance on courses that enable you to gain the driving qualification you require. We pay attention to every small detail and it provides you the best HGV Driver Training course in the South East. The areas we cover are Berkshire, Buckinghamshire, Hampshire, Oxford and Surrey if you would like to know if we run driving courses in your area please get in touch.
We offer quality training
We offer quality driver training services at a reasonable price to our customers. This helps in driving our business to the forefront of the driver training industry. With a host of qualified commercial driving instructors, our training courses are designed to expand your driving skills, and provide you the right guidance on driver training courses.
Stephen Williams
30/05/2021
I found the driver training a confidence booster as at the start I found the whole thing quite daunting. As time went on and with the tools given for the practice tests ie hazard and theory test. I also found my instructor( Martin) was very helpful and a great confidence builder which help me pass my C2 HGV license. Stephen Williams
Many thanks to Kim and her happy crew. I passed my class 2 LGV test first time with no driving faults! I was very pleased with my instructor Martin who could not have been more knowledgeable or helpful. Thank you all again. Hmmm Class 1 next!
Chris Brown (MrCabbage)
27/05/2021
Great team who support you all the way
Fantastic company to work with great staff and a lot of fun. Would recommend over and over again
Kim is very helpful and there is nothing she can't sort for you. All the time keep informed with any changes. Instructor for C+E great men and give all tips you need with bit of scream on you if needs haha. Very happy after course and thanks that I pass the test.
Pure Excellence from start to finish. From my initial telephone enquiry Kim was helpful & knowledgeable. Due to the Lockdown all test had been postponed so we agreed to keep in contact. I got a call from Kim the day they were released and was given all the educational material I could ever need. I am glad to say I passed first time with no hitches. I would highly recommend Kim Driver Training to anyone who is looking to do there Trailer, HGV or any other service that she offers.
HIGHLY RECOMMENDED!! Second time training with Kim driver training. And could not fault them. Even though I booked before lock down. And had to wait to do training and test. Kim was always keeping me up to date with what was happening. And we got training and test at the first available opportunity. Passed class 2 hgv first time. Looking forward to coming back and doing my class 1. Thanks Kim and team.
thomas watkins
19/04/2021
Booked in with Kim and asked for the earliest date possible for my car and trailer licence. She booked me in for the 1st day the tests could be carried out due to the covid putting tests on hold. Trained the Sunday and test on the Monday! Passed 1st time. I'd use kim driver training again.